Organising Administration with the School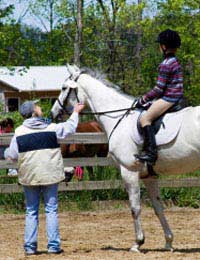 Just as with many other walks of life learning to ride does involve a certain amount of paperwork. Much of this administration, certainly that between you and your riding school, should be finished before you begin your lessons so you may get on with the business of learning to ride.
Riding is not an average, run-of-the-mill sport. It can be dangerous and this is why there is a larger amount of administration that goes with it, compared to football or netball. In addition, as well as learning a new sport, you are dealing with living, breathing animals who need to be protected and safeguarded as well.
Only when you have looked at all these aspects can you turn your attention to the final piece of paperwork – the fees.
Insurance and Liability
Any good riding school should equip you with the details of liability but it is wise to double check the details yourself as well. You need to make sure you know who is liable in the event of an accident. The school will, most probably, have public liability insurance, which should cover yourself, anyone you hurt in an accident, the horse and equipment. You should enquire as to whether you need insurance, particularly if you are renting a horse from your school. The chances are you won't do, as the school will have an all inclusive policy, but it is as wise to check. Also clear up the issue of equipment. If you damage or break any equipment in the course of riding, is it your fault or will the school cover the cost?
Accreditation
Before you start to ride, you must make sure the riding school has all the necessary accreditation and qualifications to teach you. The most important certificate to check for is that of a first aider. There should be someone qualified in first aid on site all of the time, or at least when lessons are going on. Check the qualifications are up to date.
Ask exactly who will be teaching you and what qualifications they have. Check that the instructors, and/or the school are accredited to one or more of the national bodies.
Finally, check that the school holds regular safety checks of the equipment, particularly anything you will be borrowing such as a hat or body protector. These items should also conform to British safety standards.
Fees
When working out how much learning to ride is going to cost you, do not be afraid to try and negotiate a discount. Many schools may offer a cut in the price if you book a series of lessons rather than one at a time. Of course, if you have not decided if you have chosen the right school, or even sport, you may not want to do this immediately until you know you will want further lessons. But when you have made the decision to continue, block booking can often be cheaper. Also, do not forget to check what the price of a lesson includes. Is this a fixed all inclusive price or do you have to pay more for the hire of the horse and equipment?
Other Administration
There may be other so-called housekeeping issues which you prefer to get out of the way before you start to ride. This can include the availability of courses. Does the school run sessions on stable management and the like? The ratio of riders to instructors is also important; classes should be small for beginners so that the instructor can give her undivided attention to her charges.
Enquire about horses and check whether they are size and experience appropriate.
It is easy to get confused when booking a riding lesson and staring at a bewildering number of forms to fill in and boxes to sign. That is why you should organise it all at the beginning and make yourself aware of your responsibilities and those of the riding school. Never be scared to challenge the school if they gloss over a point you need clarification on – you are the paying customer after all.
You might also like...