What to Look for in a Horse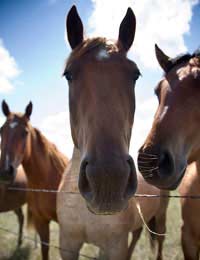 Once you have fallen in love with riding, it can be hard to not have a horse of your own to love and cherish. So, the chances are, your thoughts will start to turn towards buying a horse of your own. But how do you know what to look for?
The first rule is to always take someone with you who does know what they are looking for and has bought horses before – they will be able to advise you. The second rule is to always have a vet examine any horse you plan to buy. But, as well as these common sense things, there are other qualities you will want to look for:
Characteristics
Make no mistake about it, horses have very distinct personalities. Each one is different. So, before you start looking for a horse, put together a list of characteristics which you want in your animal. If it is your first horse, and especially if you are relatively new to riding, you will probably be looking for a quiet and sedate horse. You will also want it to have experience in carrying riders. Of course, you may have decided this is exactly the type of horse you do not want, but you will have other characteristics in mind. Make a mental checklist and then look for those things when you look for a horse. The characteristics you are looking for need to fit with what you want the horse to do, so, assuming you are going to ride him, he will need to be well broke.
Temperament
The temperament of the horse you buy is also important. With temperaments, there are definitely some horses you should steer clear of. A horse should be caught, saddled and mounted easily by his owner. If he does not like any of these things then beware. There is no point buying a horse which does not want to be ridden. That said, if you are a new rider, you will want a horse who is not easily swayed and does not pick up bad habits. If he does, then the chances are, as a novice rider, you will pass your faults onto him and they will become bad habits. But a horse too far the other way will never let you take control – and you should always make sure he knows you are the boss.
Health
One of the most important things to look for in a horse is good health. The vet exam will go a long way to helping with this, but you should also look yourself to make sure the horse has been well cared for. The vet's exam will pick up all kinds of problems with the horse's current health, as well as problems which may develop in the future, although obviously, the vet cannot predict all of these. But you will want a happy and healthy horse, and care is a big part of this.
Make sure you do not settle for a horse you do not want or that you are not 100 per cent happy with. Ensure that all of the items on your personal checklist have been met before you buy a horse. If you are not happy with some things, then this will sour the relationship between you and the horse and neither of you will be content with the partnership. Don't forget – one person's dream horse is another's nightmare so never let yourself be swayed by the seller.
You might also like...