Grooming Your Horse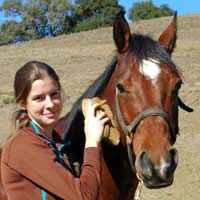 A horse is not like a dog – you cannot just throw it in a bath every few months and hope for the best. A horse needs a routine of daily and weekly care – commonly known as grooming – complete with special equipment to allow you to do this.Grooming keeps the horse's glossy coat in condition but it also has health benefits. The action of the brushes on the horse's body aids circulation and it also gives the owner chance to check over the whole body to see if there are any problems which need attention.
Brushes
There are a bewildering array of brushes on the market which fall into several different categories. Each type of brush has an important function to play in the grooming of your horse.
Dandy brush – A dandy brush removes the dry surface dirt from the horse's coat. It is for use on the less sensitive parts of the body as the bristles are fairly hard.
Body brush – A body brush is a softer brush which removes grease and dust from the coat. Because it is softer it can be used on more sensitive parts such as the head.
Curry combs – A metal curry comb is used to clean your body brush – it removes the grease and dust from it after each use to ensure this does not go back onto the horse next time it is used. A rubber curry comb can be used for removing mud and loose hair from the horse.
Water brush – As the name suggests, the water brush is used to apply water to the horse when he is being washed.

Mane comb – The mane comb is used to comb both the mane and tail – a vital action to stop them getting tangled.
Stable rubber – A stable rubber gives the final polish to a horse's coat to make it shiny and glossy.
Different breeds of horses will have different coats so brushes should always be chosen according to the type of coat.
Hooves
The horse's hooves need a disproportional amount of time spent on them compared to the size of them. If a horse gets something stuck in its hoof and it is left, he is prone to infection or other problems there, meaning he will not be able to walk and will be in considerable pain. The hooves need regular attention. With a hoof pick, you must remove the dirt and stones from the underside of them. You have to make sure you deal with every small piece to prevent infection. At first you will have to walk round the horse to do each foot, picking the hoof up as is natural for the horse. But some riders claim it is easier to train your horse to pick each foot up while you are standing in one position. This is not advised though until you know your horse extremely well.
The Grooming Process
Establishing a routine is important when starting to groom a horse. If you have a routine and stick to it, you will not forget anything and the horse will know what you are doing and expect it. A common routine is to begin with the hooves, pick them all out and then move onto the tail. If you comb the tail daily, it will be easier in the long run as it will not get so tangled or dirty.
Moving onto the horse's body, start with the curry comb to get rid of any loose hair and mud. Next get rid of the dry surface dirt using your dandy brush. Then use the body brush to take off any grease and dust. Finally use the stable rubber to polish the coat and give your horse a healthy shine. You must buy good quality brushes and look after them. Keep them in a protective box and clean them regularly. If you use a curry comb to clean the brushes, you should not need to wash the brushes too often. But when you do wash them, do not use detergent as whatever you put on them will later come into contact with the horse's skin. Use soap to avoid irritating him at a later date.
The British Horse Society is willing and able to help people who need advise and help on looking after their horse. They can offer details, through their website, of courses offered throughout the country for people wanting to study for their horse owner's certificate. These courses take place at colleges and other adult education bases and are usually available to be completed at times to suit the working adult.
A happy and healthy horse is made happier and healthier by good grooming. Riding it will also be a nicer experience if you have groomed your horse well. Above all, grooming helps you to cement your bond with your horse and get to know him well.
You might also like...