Turning Circles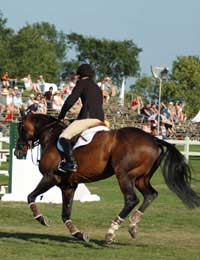 Any rider who drives a car will be familiar with the concept of turning circles. This is a reference to how large or small a circle a car will make when turned around with the steering wheel on fully locked in one direction. Horses also have a turning circle which is a reference to a similar sort of thing. However when a car is put on full lock, it will just turn in that circle for as long as the driver wants. Horses are slightly more unpredictable and cannot be put on fully locked. Therefore to turn a horse in a circle, more amount of skill is needed than just pulling the reins in one direction.
How to Turn a Circle
Turning a circle requires reins and legs to be used at the same time. To turn right, you need to pull on the right rein and use your legs to encourage the horse to move. The opposite is true to turn left. If turning a circle, whether in dressage competitions or otherwise, you will need to make the horse appear smart and collected rather than just spinning him around. He needs his body to be kept bent around the circle while turning. To do this, put the opposite leg back to the way you are turning – so left leg back when going right and right leg back when going left.
Why Use Turning Circles?
Dressage is the main reason for learning how to perfect turning a circle. In competitions the rider will be expected to turn a circle to show they can control the horse carefully and skillfully and have a good rapport with the animal.To practise cantering in a confined space, some riders will use a circle. The downside to this is that horses are not always fond of doing this. But riding a circle is a good way of keeping the horse under control if they seem likely to bolt.
Other riders swear by turning a horse in circles when dismounted. This can be a useful way of persuading the horse to move if it is refusing as, in theory, it dizzies the horse. Opinion is divided as to whether it works or not, and much depends on the individual horse. Some will be content to turn in circles forever while others will want to stop as soon as possible.
Measuring Circles
Often, circles will be referred to by size, particularly in dressage competitions. The number usually refers to the diameter of the circle you are expected to ride – so 20 has a diameter of 20m, 10 has one of 10m and so on. The smaller the circle is the more balance the horse needs to complete it correctly. A 20m circle is the most common in dressage, as it fits neatly with the dressage arena.
Turning circles are a good measure of the horse's understanding of what it is needed to do, and of the rider's horsemanship. This is why it is such an important element of dressage for if a rider can perfect a circle, they can control the horse in a complicated manoeuvre. It is easy to see in the arena if a circle is perfect, so judges will always now how good a rider really is.
You might also like...