Preparing for the First Lesson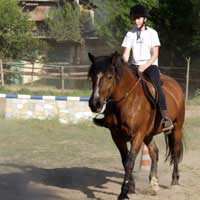 So, congratulations, you have decided to take up a new hobby and learn a new skill. Along the way, you are bound to have lots of fun and make new friends, but before your first horse riding lesson, you may also be a little nervous about what to expect. There are many things you can do to prepare, mentally and physically, for your first lesson and enhance your enjoyment of it when it happens.
Choosing the Right School
First and foremost is to choose the right riding school for you, if you have not already done so. Recommendations are the best way of finding a good riding school. Perhaps you have been inspired to take up riding from a friend - ask them where they learnt or where they would recommend. If not, then go to local clubs, such as your local Pony Club, or contact national associations and either ask for a recommended school or a list of accredited schools. Accreditation is vital - check the school you enrol in holds teaching accreditation, and, just as importantly, has a qualified first aider on site at all times.
Visit Your School
Perhaps you have already chosen the school and booked your first lesson. The next step of your preparation is to visit the riding school and watch a lesson in action. A visit to the school will give you an idea of what to expect from your own lesson. You will see how the teacher's style works and how they build the confidence of their learners. But more than this, the visit is a chance for you to check the number of people in each class, and whether they all seem to be getting a similar level of attention from the teacher. If one person is too far ahead or behind, they may monopolise the teacher's time - to the detriment of others. But, as long as you are happy with the size and abilities of the class, just watch for a while. You should be able to see that the teacher does not push people further than they want to go, and - hopefully - that the horses are used to riders, and will treat you carefully.
Prepare for the Administration
In the run-up to your first lesson, prepare your administration. Make sure you know exactly how much your lessons are going to cost and how you will be expected to pay. Will the school want a deposit up front and do you have to block book lessons? Check the public liability insurance of the school and whether you need any insurance yourself. Answering these questions now will help you to relax on the day without worrying about matters far removed from actually mounting a horse and riding it.
Hats and Clothing
Without doubt, the most important thing you can do to prepare for your first lesson is to invest in a good quality, well-fitting riding hat. This is the most important piece of clothing you will buy and must be from a reputable supplier. Hats are not cheap but as they could save your life, they are a necessary investment. Make sure the person you buy it from knows how to fit you for the hat so it sits snugly on your head. Don't be tempted to buy a second hand hat as there is no way of knowing if it has been involved in any accidents in the past. It could look intact from the outside but the inside could be damaged or worn out.
Also make sure you have comfortable clothes to ride in. You need not invest in jodhpurs and riding boots at this stage, but you will need trousers which are not going to restrict your legs and become uncomfortable, and boots which will allow you to get a good grip on the stirrups.
Getting Fit
Physically, no major preparation is needed as long as you are moderately fit. But remember that horse riding is a form of exercise and a demanding one at that. You will be asking your body to do things it has probably never done before, and as such, you should ensure it is up to the challenge. If you have not done any exercise for a while, build some into your daily routine in the weeks leading up to your first lesson. Simple stretches and a vigorous walk will suffice, but your body will eventually thank you for taking the precautions.
Riding is a wonderful and rewarding experience, and your first lesson is sure to live in your memory for many years after your legs have recovered. With a few simple steps of preparation, you can make sure you maximise your experience and have the time of your life.
You might also like...
Your articles are very well written. I'm approaching 30 and have never ridden before. Is it too late to start learning?Would I feel like I'm in the minority camp at riding school?
Cerulean
- 16-Aug-11 @ 11:35 PM
sat 7th may is my first lesson i am so excided my friend goes to the same school she is the one who gave me the number i have been sitting on a horse before but i have never rid one before i will comment again and tel you's all how i got on and if i dont in the nxt 2 weeks you know i am lying up on my cruise or lying up in hospital
cutie
- 6-May-11 @ 10:50 PM