Mounting and Dismounting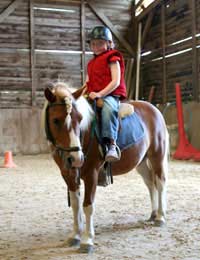 Mounting and dismounting a pony is a basic skill of riding and one which you will need to master before you proceed onto anything else. Nevertheless this does not mean that it is not an intimidating skill to approach learning. To a beginner, often, the scariest element of horse riding is getting on and off, so by learning how to do it safely and comfortably, your whole riding experience will be enhanced.
Your riding school will help you, of course, but it does help to have a picture of what to do in your mind's eye before you set off for that first lesson.
Size
One of the most common cries of a beginner is their horse is too big for them to mount. It is completely normal to feel this way, but do not worry. A good riding school will have matched you well to your horse and if you take a look around at everyone else in the class, their horses will all be of a proportional size as well.
It may feel big to start with, but once you have mastered a good mounting technique, you will be up and away with no problems and in no time at all.
Near and Offside
Just like a car, a horse has a near side and an off side. It is important to remember this as your teacher may refer to near and offside rather than right or left. The near side is the horse's left and the off side is the horse's right. You should always mount and dismount using the near side.
Basic Steps – Mounting
To mount the horse, face the near side of it.Grab the reins in your left hand, with plenty of slack on the right hand side of them. Put your left foot in the stirrup, using your right hand to pull it on. Grab the back of the saddle with your right hand. Now, bounce on your right foot and push off, putting your weight onto your left foot in the stirrup. At the same time, pull down with your hands. Swing your leg over the horse's rump and seat yourself comfortably in the saddle. Put your right foot in the right stirrup and hold the reins correctly with both hands.
Dos and Don'ts – Mounting
Remember, your pony, if a riding school pony, will be trained in having riders mount him. But, it is still an unnatural movement for the horse and therefore should be completed as smoothly and quickly as possible. Do not put all of your effort into pulling; the majority of your momentum must come from pushing down with your left leg, otherwise you could overbalance the horse. This is especially true for tall or heavy riders who should make sure that they put plenty of weight on that left foot. If you are small or struggling to mount, do not be afraid to ask for a push up. This is where someone holds your left leg and pushes up when you transfer your energy to it. Also, do not forget to stand as close as possible to the horse, or again, he will be off balance.
Basic Steps – Dismounting
Dismounting is essentially the opposite of mounting, so once you have got the hang of getting on, getting off should follow.Firstly, make sure the horse is standing still. You should never attempt to get on or off while he is moving. Hold the reins in your left hand, remember to leave slack on the right side. Stand up in the stirrups and swing your right leg back over the horse's rump. Put your right hand on the back of the saddle, balance on your hands and free your left foot of the stirrup before letting yourself drop gently to the ground.
Dos and Don'ts – Dismounting
Never try and dismount while moving; apart from anything else, this will confuse your horse. As you drop to the floor, never push the horse away - simply slide down his body.
You are bound to be apprehensive before mounting a horse for the first time, but as you cannot ride a horse without learning to do it, it is a skill to master quickly. As long as you follow these steps and your teacher's advice you should be doing it safely and quickly almost straightaway. It is important to get it right, because if you get stuck half on and half off a horse, it is the most dangerous place to be. But with plenty of practice, it will soon be second nature to you.
You might also like...