Training for a Three-Day Event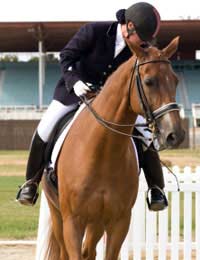 A three-day event is a strenuous and demanding test of a rider and horse's all round ability. The team needs to be able to exhibit poise and elegance, but at the same time have plenty of stamina and strength. To be a successful eventer, a rider needs to learn all aspects of riding. Thus, training for a three-day event can be extremely challenging. Like a triathlon, competitors use different parts of their body for different disciplines. But at least with a triathlon, only the athlete has to be prepared. With a three-day event, the horse needs to be ready for action as well.
Where to Start?
Before anyone decides to take up eventing, they will need a good range of basic riding skills and a high level of horsemanship. Horsemanship is important in eventing, where so much is being asked of the horse – a true partnership. Therefore, the rider must be able to communicate easily and openly with their horse.
Once a good level of riding has been acquired, the rider will need to learn how to jump, if they do not know how to do so already. They will also need to study dressage and the range of manoeuvres they will be expected to perform – which can be anything other than the very highest level movements.
Once the individual components have been mastered, the rider must start putting them together. They will need to train in such a way that their work in, say, the cross country element, does not leave them too tired to be able to compete properly in the dressage.
As well as riding skills, a three day eventer will need to work on their general fitness and stamina levels to ensure that they do not become fatigued in a competition.
Do not forget that in most cases, men and women compete on equal terms at eventing. Although this is testament to the ability of female riders, it does mean that they will have to work particularly hard at building up stamina and strength while men may have to concentrate on their grace and elegance when riding.
The Horse
The horse too will need to be well trained for a three day event. At lower levels, any horse can be used in competition. But it must always be well-conditioned. However, as the levels get higher, the horse will need to be a thoroughbred to compete convincingly as these have the maximum athleticism and stability.
The horse must be trained to listen to its rider at all times. It needs to listen well to be able to perform the many and varied things it will have to do, and to do these things in an elegant and careful manner. In cross country particularly, the horse must be a good listener because the risk of falling is so much higher. A perfect jumping ability is not usually necessary, although the horse must be competent and confident at the jumps.
Three-day, and indeed one-day, eventing is an arduous sport, because of the disciplines. It requires a lot of training and if the rider is not prepared to put in the work and be completely dedicated, it may be better to concentrate their efforts on the individual disciplines alone. These too are hard work, but can be more recreational at lower levels, than the time consuming three-day eventing.
You might also like...