How to Qualify for Point to Pointing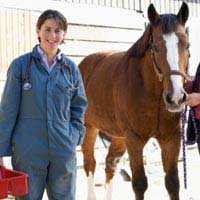 Point to pointing, a form of amateur racing over jumps, is intrinsically linked to hunting, and therefore there are minimum qualification standards which have to be set. Not any horse can be entered into a point to point race and the list of criteria for eligibility is long. But it is worth remembering that it is the horse which has to meet certain criteria and not the rider. In reality, almost anyone can ride in a point to point – if they dare to, that is.
Vet Checks
Checks have to be made to make sure that vets have checked out the horses and that they are fit to run and fit to take part. This means that all horses which are set to compete in a point to point must have an official passport with fully completed DEFRA medical pages. They must also be up-to-date with the necessary injections which horses are required to have.
Registration
The main registration needs for horses which are involved in point to pointing is either that they are a National Hunt member or that they have been registered with Weatherbys. This can take the form of a general stud book registration or a non-thoroughbred register. The passport mentioned above has to contain full details of the horse's parents and their appearance, so they can be tracked and checked.
The Hunt Connection
Once the horse has had its medical checks and is registered correctly, then it needs to be issued with a hunter certificate. A hunter certificate is issued by the master of the hunt and also has to be registered with Weatherbys. But the certificate is not easy to get. It has to have been hunted with dogs, at least four times and the owner has to be a member or subscriber of a pack to tick this box.
Exceptions
Like most things, there are exceptions to these rules, although not many. The basic premise is that point to point is training for National Hunt races, and from its name, it is clear that this retains links with traditional hunting. A hunter certificate is always needed but there are some races when it doesn't have to be registered beforehand. This includes hunts members' races and some club members' racers – then it is sufficient to have the certificate on the day. It does have to be handed in though and it has to be done at the meeting at which the race is set to take place.
Point to pointing is rigorous and strenuous for both rider and horse, and they need to be ready for it. This is part of the reason that there are such stringent checks in place. The checks also help to make sure punters and racegoers are not cheated and that as level a playing field as possible exists for all competitors. If the checks and rules were not in place, chaos would reign in the betting arena, with no-one exactly sure if each horse was who its owner said it was.
You might also like...