The Hunting Ban Facts and Figures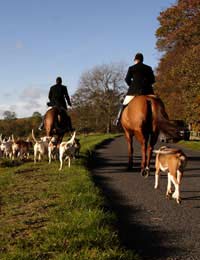 It has been almost impossible to completely avoid the debate about the hunting ban, even if a person has no strong views either way. It has, on occasion, engulfed Parliament debates and has stirred up such strength of opinion on both sides of the debate that no one can have failed to notice it. But whatever the moral views both for and against the hunting ban, the fact is that it is here at the moment, and it has been since 2005, stopping a lot of people from doing what they call a pastime and pleasing a lot of people who think it should be outlawed.
Prosecutions – Facts and Figures
The ban effectively makes it illegal to hunt small mammals – and therefore, since people are trying to find ways around the ban, it is inevitable that there will have been prosecutions along the way. However, the number is smaller than you might expect as police forces have said that although they will always take action against those who break the law, they do not have the resources to monitor the situation closely. There have also been some private prosecutions brought by anti-hunting organisations such as the League Against Cruel Sports.
48 – convictions under the Act in 2007, up from eight in 2005
9 – attempted prosecutions involving registered hunts
3 – successful prosecutions involving registered hunts
5 – numbers of hunt staff convicted in those prosecutions
What Can and Can't Be Hunted – Facts and Figures
The main creature which the Hunting Ban refers to is the fox, hunted by riders on horses and packs of dogs. But the remit of the ban does extend much further than this and does incorporate other animals. There are also many loopholes and exemptions which have caused anger on both sides of the debate in the past.
Wild mammals and guns – mice, rats, rabbits and hares. Rats and rabbits can be hunted with dogs as they are pests, or can be classified as such, whereas mice and hares are not.
Foxes and birds of prey –the act allows birds of prey to hunt foxes and hounds can be used to flush out the fox. The hounds must be used for the fox to be flushed out only.
Hunting below ground – terrier work or fox baiting is when terriers are sent underground and this is also made illegal by the act although 'gamekeeping' is allowed where the aim is to prevent serious harm to birds. The fox has to be flushed as soon as possible and shot as soon as flushed.
Those which aren't covered – drag hunting, where an artificial scent is used.
The Hunting Ban is very much a moveable feast and with a new political set up in the UK, it is very much subject to change. The hunts in the UK have found many ways to carry on hunting and because the ban is so detailed and there are so many exemptions, there will always be ways to get around it. This is a subject which will continue to attract much debate, and if the coalition do revoke it, there will certainly be a massive outcry.
You might also like...