National Hunt Racing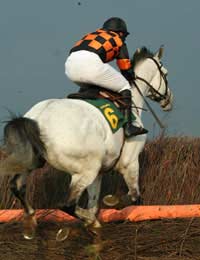 National Hunt racing as it is known in the UK, is basically professional horse racing over jumps. Although it is not seen as being as glamorous as its older cousin flat racing, it certainly makes up for it in mass appeal – with several of the biggest sporting events of the year being National Hunt races. Again, it is mostly in the UK that it is popular, in other countries it is seen as a minor sport compared to flat racing and in some it barely even exists.
But, above all, there are two big National Hunt races which attract everyone's attention. The Grand National and Cheltenham Festival – particularly the Gold Cup – grab the attention of the nation. These are two of the most massively lucrative events for bookies of the year, with even people who never watch racing usually having a flutter on the winner.
National Hunt racing takes place in the winter usually, with its softer ground.
Types of Race
There are several types of race within National Hunt racing, and it is a good idea to get a basic handle on what each one means. A chase is a race consisting of large and rigid fences which can each be as high as four and a half feet. These races are usually between two and four and a half miles long. A hurdle is a shorter race – between two and three and a half miles – which has more flexible obstacles, usually only three and a half feet high. Both of these categories also feature novice classes for a horse who has never won a class before.
A bumper race, or a National Hunt flat race, as they are also known, is a flat race designed to get horses used to racing before they tackle a hurdle or chase. They are rough races with a faster speed than jumping races, but a more ungainly style thanks to the inexperience of the horses.
Irish Origins
The sport of racing with jumps originated in Ireland. The first recorded race was held in Cork in 1752. Point to point racing also started at that time too. To this day, Irish bred and trained horses can dominate the scene and this is true of jockeys too. Many of the world's best jockeys are Irish or have an Irish heritage and Ireland is the one place where obstacle racing – or steeplechase as it is sometimes known, usually in the USA - can rightly be said to be bigger than flat racing.
Above all else, one of the major draws of National Hunt racing is the money. It attracts a lot of gambling and a lot of spectators and, as anyone who has ever placed a bet on the Grand National will know – this is not confined to racing aficionados. But despite of the amount of money involved with the sport, the one fact to never lose sight of is that both horses and jockeys have to be extremely talented to compete in this demanding and challenging sport. People who truly love the sport describe it as a way of life – and derive much pleasure from their dedication to it.
You might also like...