Basic Rules of Polo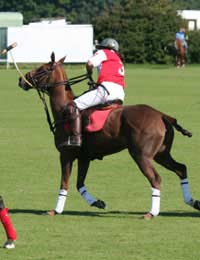 The sport of polo has a long and illustrious history. Like many other equestrian sports it is seen as a noble and worthy sport and in the UK has a long and distinguished place in history as the favoured sport of the Royal family. Prince Charles and his sons Prince William and Harry have all been pictured playing polo many times. In fact, in other countries too, polo is played by royals and the aristocracy.
There are two main types of polo – indoor or arena polo and outdoor polo. Like many team sports, points are scored by getting a goal, however, in polo, this occurs while the player is on horseback.
Time and Format
Polo matches are divided into periods which are called chukkas. Each chukka usually lasts seven minutes. Games can have either four, six or eight chukkas although six is the most common number. There are four minutes between chukkas.There are usually four players per team, or three for arena polo, and two teams play against each other.
Players have handicaps based on their past performances and the handicap of a team is worked out by adding together all of the players' handicaps. The team with the larger handicap sometimes will get free points to compensate for this.
Obviously, the players are all mounted on polo ponies – although these tend to be fully grown horses rather than ponies. Many people say that the pony accounts for much of the talent and skill in a polo game.
The Object of the Game
The object of the game, put simply, is to score goals to win. The goals are scored usually by hitting the ball with the mallet. However, the ball can cross the line in numerous ways, including if it is knocked through by the pony.
However, unlike football, hockey and other goal-based games, there are judges who declare if the goal is in fact a goal, i.e. if it has crossed the line, rather than having a referee who only intervenes if it is not one.
Polo can be a contact sport although this is limited – players can only push each other at a 45 degree angle. There are also a number of fouls, although, as a general rule, polo is a gentle sport. Players appeal for a foul by raising their mallet above their head. One common foul is line of ball – when a player crosses the line the ball is travelling in, at the expense of another player. This is outlawed to avoid collisions and the player following the ball always has right of way. Penalties can be awarded at distances if this is breached, with the distance being dependent on the severity of the breach.
Polo is a noble game but it is also fast paced and exciting. However, it can also be very expensive. The outdoor version tends to be more expensive, the indoor version is cheaper, but is much more popular in the USA than elsewhere. However, whether you are a player or spectator, a game of polo is always fun, fast and exhilarating.
You might also like...