The History of National Hunt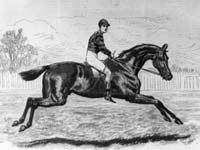 If horseracing is the sport of kings then you would expect it to have a long and illustrious history. This is certainly the case for National Hunt (NH) racing, which, broadly speaking, is jumping over obstacles. Historically, the NH season was the winter race season while flat racing took place in the summer. However, times have changed and now NH racing takes place over the summer too, although many top jockeys and trainers do rest during the summer jumps season and really focus on the winter season. But the odd top jockey – namely champion jockey of many years standing, Tony McCoy, does buck the history of National Hunt and race all year round. Also, it is worth bearing in mind that there is one case when NH horses do not jump – in the case of a bumper; a flat race held at a NH meeting where more inexperienced horses do not race over jumps.
Why Did it Grow Up Like This?
The history of National Hunt tells us more about why it is historically a winter sport, as does the nature of the sport itself. First and foremost, the horseracing season which people tend to see as more glamorous is flat racing. Therefore, this is held in the summer when spectators can put on all their finery and head to Royal Ascot or the Derby, hopefully in the sun. The likes of the Cheltenham and Punchestown Festivals attract a more down to earth, focused on the racing crowd – although this isn't to say that people do not take flat racing seriously as well, just that it attracts more people who are there to be seen, as well as the horsey types.
But the main reason why NH racing grew up when it did, in the winter, is due to the ground. Jumps racing is far harder on a horse than flat racing and the potential for injury is greater, especially over some of the big jumps such as those at Aintree. Therefore, to hold it in a season where the ground is softer, such as the winter, when there has been a lot of rain, makes far more sense. This is still true today, as most summer jumps racing is done over smaller jumps, to mitigate for the going.
Where Did it Start?
Anyone with more than a passing interest in racing will understand the importance of NH racing to the Irish, where it is by far the more popular discipline. So, it will come as no surprise to learn that the history of National Hunt racing is rooted in Ireland. It was here that as early as the 18th century, two horse races used to take place across the countryside of the Irish southern counties. These horses had to jump whatever was in their way, and the route was marled out by a church at either end – giving rise to the term steeplechase which is still a type of race held today. Point to point racing, still held now, retains far more of its roots in its format.
History of Organised Meetings
From this point, it was not long before steeplechases and other jumps races began to become more official. It is thought that the first official meeting with a jumps race in it was held in the early 19th century in Ireland and the first ever Grand National at Aintree followed in 1839. Of courses, the racecourse' location in Liverpool and proximity to Ireland would have more than likely explained its natural choice as the location for such a race – although today the Cheltenham Festival is the more prestigious meeting within racing circles.
History of Cheltenham
British NH racing took off from here with the main annual events being cross country races which people saw as fun although not as serious as flat racing and it was not until the 1860s when a National Hunt committee was formed to regulate and formalise the sport. A National Hunt meeting was organised, which moved around different racetracks, that is, until it went to Cheltenham in 1904 and 1905. It did move to Warwick after that but it was soon back to Cheltenham which soon established itself as the meeting every jockey and trainer wanted to be at.
And so, no longer is NH racing the downtrodden cousin of flat racing but the more technical, and, as many see it, the more exciting form of racing. And with a year-round season at courses across Briton, there really is a chance for everyone to get to see some NH racing at a time to suit them.
You might also like...