Point to Points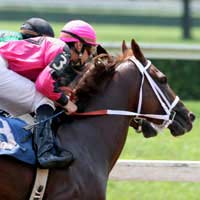 Point to point racing is really grass roots racing and the way that many jockeys either discover a love for the sport of racing or make their way in their chosen sport. The races are held across the country and are affiliated to hunts. Unlike flat racing and National Hunt racing, jockeys do not need a permit to take part – thus anyone can join in. The races are, however, sanctioned by the Jockey Club.
A massive difference between point to point and professional racing is that the abilities of both horses and jockeys can vary massively as a result of the lack of regulation – although stars are easy to spot.
The races take place across a pre-determined stretch of countryside and often attract many spectators and even some specialised gamblers.
The History of Point to Point
Point to point racing dates way back to the 1800s. Hunting men used to race each other across the countryside, from steeple to steeple as they passed different villages. These steeples would be called points and hence the derivation of the name point to point.
Now, the races usually take place over actual courses although still in the countryside. They have obstacles such as jumps and fences to challenge the horses and riders that little bit more.
Types of Race
Within point to point racing, there are several different races available to riders. A maiden race is one for a horse which has never won a point to point race or indeed, a Jockey Club race, so, it is for beginner horses. Then there is an intermediate race which is open to all horses which have not won a flat race or another intermediate point to point. A hunt members' race is for horses qualified with the organising hunt, while a confined race is for horses qualified with that hunt and up to 15 adjoining hunts.
A hunters' chase is open to horses with a hunter's certificate and amateur riders, and an open race is open to all. Within each of these categories there can often be combinations and sub categories, especially for ages. Point to point racing is very much seen as a family sport and a family day out, and many hunts organise youth competitions to give youngsters their first taste of point to point racing.
But, for the most part, the eligibility emphasis is not on the rider but on the horse – it is the horse who must pass tests and must be qualified rather than the rider.
Point to point is billed as a family day out, and this is always reflected in the atmosphere at a race. Some point to point races are run much like a professional race meeting. But others are more ad hoc and informal. But whatever type of race you attend, you will find them much more family-friendly than professional race meetings, and the children's races give youngsters a taste of what they can experience should they take up riding or racing at a higher level. Going to a point to point is an enjoyable day for all – whatever their age.
You might also like...